Industrie Africa Founder Nisha Kanabar.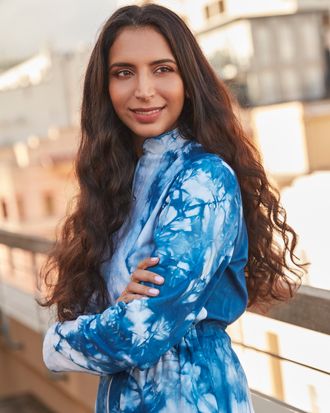 Photo: Courtesy of Nisha Kanabar/Industrie Africa
Nisha Kanabar knows a thing or two about global fashion. Kanabar grew up in Tanzania in a family of Indian origin, moved to the U.S. to study at Parsons, and has worked at American Vogue, Vogue India, and Style.com in the Middle East. In 2018, her expertise led her to launch Industrie Africa, a platform representing the diversity of contemporary fashion in Africa.
She founded Industrie Africa in hopes of addressing the misconceptions and stereotypical impressions of what African design really is. "It was important for me to create a 360-degree hub of contemporary African fashion that's global, curated, and current," she told the Cut. "A space of commerce, content, and community celebrating and representing the voices of the industry and its pioneers." The site is both a directory and a store, with over 80 brands from 24 different African countries.
We spoke with Kanabar about The Real Housewives, French fries, and those Balenciagas that look like socks.
An image from Industrie Africa's summer campaign.
Photo: Courtesy of Nisha Kanabar/Industrie Africa
What's one part of your work that's especially meaningful to you?
Our inaugural summer campaign! It's true to who we are as a platform and the designers we represent: fashion focused and curated, yet diverse and dynamic. The clothes and styling are powerful, distinct, and intrinsically African.
How do you thank someone for a gift?
A note of thanks via eye-catching stationery and — more importantly — a reciprocal gesture of appreciation. That mutual exchange of generosity and thoughtfulness goes a long way in cultivating relationships.
What would you never wear?
Non-stretch skinny jeans. Make them low rise and then you have the stuff of nightmares.
What's your dream vacation?
A long, ambling culinary journey across the Far East, peppered with street food and special restaurant experiences. Currently, Tokyo and Kyoto are at the top of my list. Beyond food, Japan has the most incredibly fascinating city cultures.
What's a good book on your coffee table right now?
Not African Enough, by Sunny Dolat. Sunny is an exceptional ambassador for the shifting aesthetics of African (and, more specifically, Kenyan) fashion, often provoking dialogue on this notion of what is "authentically African." He also sits on Industrie Africa's advisory board.
Last show you binge-watched?
Masaba Masaba on Netflix.
What's your guilty pleasure?
Real Housewives of literally anywhere.
Secret to hosting a good party?
A good atmosphere stems from great lighting, delicious drink, and a very attentive host.
What is a trend that you like right now?
Considered, conscious shopping habits. The consumer of today is different from the consumer of six months ago — people value "slow fashion" and search for meaning in their purchases more than ever.
One you don't understand?
Corsets. I like to breathe.
Favorite restaurant in New York?
Gramercy Tavern, my neighborhood haunt back in the day.
What's the one thing you could eat every day for the rest of your life?
Crispy, chile-lime-salted French fries!
Shoes you wear most often?
Day to day, mostly leather sandals for our coastal tropical climes. When I travel? Probably my Balenciaga knit-sock sneakers.
What are five inanimate objects that bring you joy?
"You will not find anything like these geometrically sculpted brass earrings. They walk a delicate line between sophistication and edge. All Ami's pieces are inspired by her Kenyan environment, handcrafted using local materials."
"Fornasetti ceramics are the ultimate whimsical indulgence. Their candles (housed in decorated heirloom vessels) take on the role of art and accessory, and add great texture to your home."
"I love to build a look around one statement separate, and these luxurious, mixed-print pants from celeb-favorited Nigerian designer Lisa Folawiyo are both fun and fashionable."
"Zimbabwean heritage brand Patrick Mavros have been creating these masterful, wildlife-inspired silver accessories since 1980 (you can shop their jewelry on Industrie Africa). I love these darling sterling-silver swizzle sticks; they complement any bar set, make a great gift, and are a lovely conversation piece."
"These ostrich-skin leather clutches are breathtaking and meticulously crafted, and they come paired with playful accessories like this feather charm. They're also guilt free (the brand has adopted a no-waste ethos and uses materials that are ethically sourced as a by-product of South Africa's preexisting farming industry)."